Mind Mapping for Individuals
Unlock your creativity with advanced mind mapping and visualisation.
Mind Map Pro is great for brainstorming, creative thinking, managing complex information, project planning, problem solving and much more!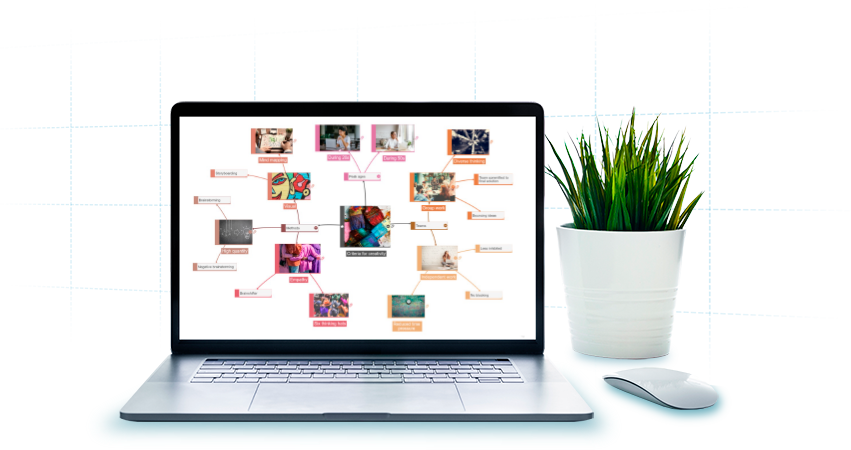 Structured Thinking with Mind Map Pro
Mind maps are a great way to visually organize your thoughts and formalise your ideas. Mind Map Pro provides an intuitive editor that lets you create highly creative, well structured mind maps that can be used for brainstorming, note taking, planning, studying, problem solving, presentations and many other purposes.
---
If you need to present ideas in a creative way or need to brainstorm, Mind Map Pro will help you do it better. With this powerful mind map software, you can share your thoughts with others, or save them for later. It's never been easier to get work done and have time for the things you love.
Please take a few moments to read through the benefits, use cases and case studies presented on this page, because it highlights how our mind mapping and visualisation can help unleash your creativity.
If you'd like any further information, scroll to the bottom for the answers to some key FAQs!
The Benefits
Advanced Mind Mapping & Idea Visualisation
Mind Map Pro offers a new way to think about creativity and offers practical strategies for approaching both individual and group brainstorming sessions. Our mind mapping software helps you with creativity, innovation, and problem solving. Some of the benefits you can expect are summarised below: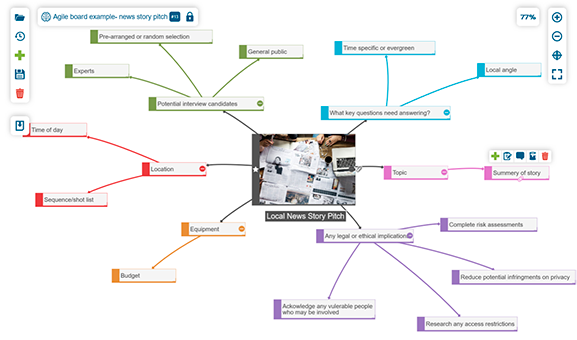 Boost Creativity & Productivity
---
Did you know that more than half of the world's population is creative? Unfortunately, these individuals are often unable to realize their full potential because they lack the proper tools and techniques to unleash their creativity. That's where Mind Map comes in, it helps you generate, organize and visualize ideas. Unlike traditional linear note taking, it doesn't force you to follow a rigid set of steps. Instead, mind mapping allows you to explore your thoughts in any direction, shape or form. That's why it has been used by people like Michael Jordan, Beyoncé and the Wright brothers. Mind mapping is an excellent technique for exploring creative ideas and boosting your creativity.
Enhanced Problem Solving
---
Complex problems are difficult to solve with traditional linear thinking. Mind mapping is the art of brainstorming and capturing thoughts and ideas quickly, so that they can be organized in a manner that can be understood at a glance. Mind Map Pro is a digital mind mapping solution that allows you to efficiently solve problems, saving you time and effort by ordering your thoughts and effectively capturing key issues. Mind Map Pro will help you be more efficient solving problems, as well as capturing issues and finding solutions. A brainstorming session can help evaluate possible solutions, tasks can then be created for completing activities required to deliver the solution These tasks can be undertaken by yourself or assigned to members within your team.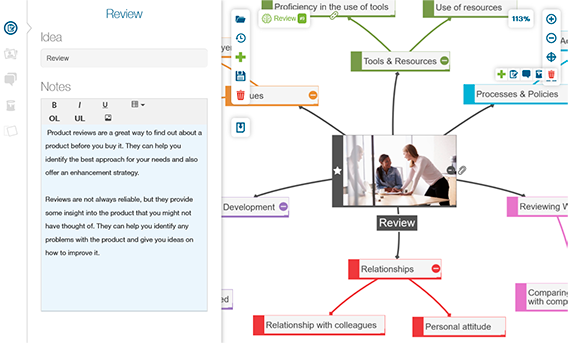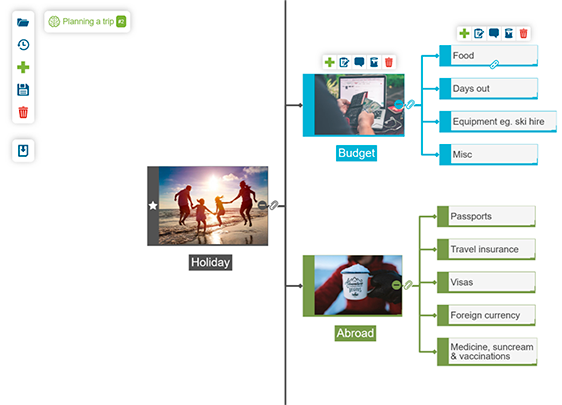 Organise Your Thoughts
---
Who hasn't struggled to organise their thoughts? Mind Map Pro is a crucial tool for developing and communicating your ideas. It helps create ideas, structure your thoughts, use less words, and improves your communication skills. Our mind mapping tools also allow you to see the connections between different ideas in a visual way which makes it easier for you to find connections between seemingly unrelated ideas that might actually be important to the overall idea you are trying to communicate. Mind Map Pro is a great online tool for documenting your thoughts, developing new ideas, note taking, getting organised, and making complex ideas simple to understand.
Knowledge Retention & Sharing
---
The way we learn, share and communicate has changed. We have moved from linear to visual, static to interactive, text-based to multimedia and so on. There is one thing that remains the same though – our need to retain knowledge and ideas. Mind Map Pro is an effective knowledge-sharing tool that helps people remember and communicate new ideas. We provide an alternative to traditional linear thinking and note taking, which is sub-optimal for knowledge retention, problem solving and communication. Mind Map Pro allows you to construct a map of ideas quickly and easily, with minimal effort. This lets you focus on building and evaluating ideas, rather than worrying about the mechanics of how to draw the map. You can also easily share your mind map with colleagues and invite them to collaborate.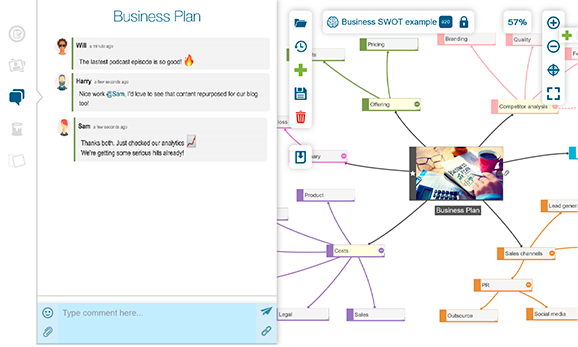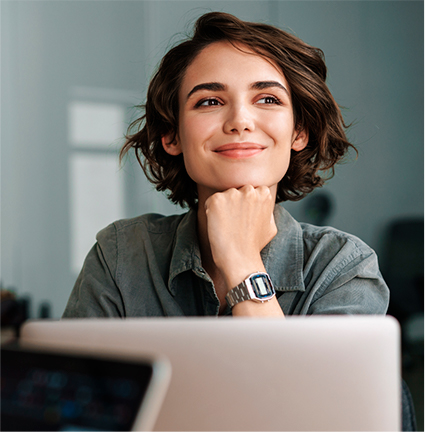 An intelligent approach to exploring opportunities
---
You've got a big project coming up, but you're not sure where to start. Mind Map Pro makes it easier for you to plan, explore concepts, evaluate ideas and better communicate. Our built-in project management tool can be used by anyone from entrepreneurs and freelancers to students and CEOs.
With Mind Map Pro users can organise their thoughts and ideas into a clear visual representation of concepts, thoughts, and planning. It is a great tool for exploring new concepts and communicating ideas efficiently.

Case Study: Dante Creative
Dante Creative Creative Problem Solving
---
"I've been a graphic designer for over 20 years and I think Mind Map Pro is a fantastic tool for capturing requirements, design, planning and project management. It has so many features that make it easy to track the whole process. The best thing about it is that I am able to interactively capture requirements with my clients using the visual mind map tool. This makes the process quick, easy and fun. This process has helped me reduce the number of times clients need to change something which has meant less work for me! "
– Riccardo Conetta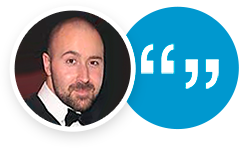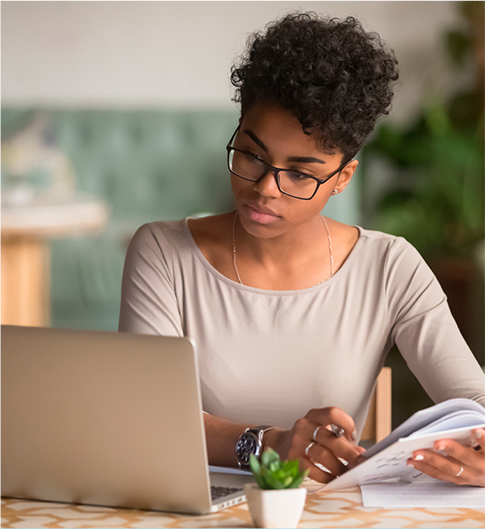 Enhance Your Problem Solving Skills
---
Visualize your thoughts and ideas on a mind map, where each branch represents a different idea. Explore your ideas and find an answer – all in one place! Our Mind Mapping tool is a highly intuitive way to solve problems, generate ideas, and organize your thoughts. Now you can explore your thoughts and find answers all in one place.
Use Cases
How Mind Map Pro Helps
Boost Productivity
We have created a highly intuitive mind mapping tool that provides several ways to boost your productivity. In addition to designing your mind map however you like, our tool provides powerful online collaboration capabilities allowing you to invite colleagues to contribute and extend your mind map. Examples uses have been provided below to illustrate the benefits of Mind Map Pro:
Brainstorming & Creative Thinking
Creativity is a skill that is often overlooked. We tend to prioritize the more technical skills and neglect creativity. However, creativity is an important skill that can be developed with time and effort. With Mind Map Pro, you will be able to unleash the full potential of your creativity and problem solving capabilities. You will be able to capture thoughts efficiently, generate unusual ideas, facilitate discussions using brainstorming sessions, and communicate findings effectively.

Improved Communication
Many people find it difficult to communicate their ideas and thoughts in a clear manner. They often get lost in the process and end up not being able to convey what they want to say. Our mind mapping tool helps you capture, structure and visualize your thoughts in a better way so that you can explain them more efficiently with less effort. Mind Map Pro is often used in meetings as a tool for brainstorming and idea formation sessions – allowing you to visualize your thinking process and find the best way to explain it to others. Mind Mapping is an excellent tool for improving your communication skills.
Idea Visualisation
Mind Map Pro visualisation helps you to understand the big picture of your project or goal and map out a clear and concise plan to get there. Most people find it easier to come up with goal, roadmaps, new ideas or a solution to a problem when they visualise it first. Visualizing what is needed helps clarify thoughts, which leads towards finding the best way to progress. Our mind map drawing tool enables you to quickly capture ideas and visualise them. Visualising ideas makes it is much easier to conduct research, identify connections and relationships, plan strategies and more.

Problem Solving
Problem solving is all about finding a solution to a problem. This can be done in many ways, but the most effective way is to evaluate solutions and then choose the best one. The entire problem solving process is streamlined using Mind Map Pro. Get started by laying out your problem, then having a brainstorming session and evaluating options. To take it a step further, add notes and media to further explore additional ideas or share thoughts with colleagues. No matter what problem you're trying to solve, Mind Map Pro will help you find a good solution faster.

Sharing & Team Collaboration
Sharing and team collaboration are important in the workplace. The number of people who are working remotely is increasing and they want to collaborate with their colleagues on projects in real time. Mind Map Pro is an online collaboration tool that lets you work on the same project simultaneously and helps to create, share and edit your ideas with anyone in real-time. Our online collaborative environment allows team members to learn from each, encouraging problem-solving, better exchange of ideas, and improved productivity.

Note Taking
Taking notes is a crucial part of any meeting. Not only can it be used to keep everyone on the same page, but it also helps you remember what was discussed. There are many ways that we can take notes, but one of the most popular methods is to use a mind map. Mind Map Pro provides a visual way of recording all of the information that is discussed in a meeting. It is faster than taking notes the traditional way because you don't have to keep switching between topics, and it's easier for people who want to go back later and understand what was discussed, because all of the information is grouped together.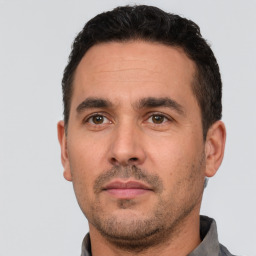 "I used Mind Map Pro to create a plan for my new business and it was an excellent tool. It is easy to use and very powerful with the different tools to convey information. I have recommended this app to colleagues who are looking for a way to prepare ideas for their project. A great tool!"
James Best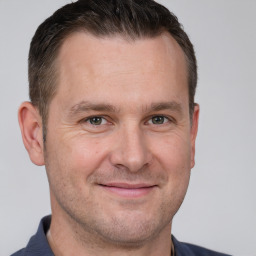 "Mind Map Pro is not just a great tool to create visual mind maps, but it's also helped me keep track of all the properties I am leasing out as a landlord. Previously, I was using Microsoft Excel, but since moving to the Mind Map Pro software it has made the process so much easier."
Jonathan Wiper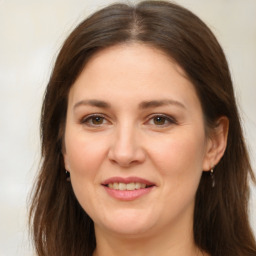 "I have been in the tech industry for several years and I have to say that Mind Map Pro is one of the best tools I have used for creativity. It's helped me with design ideas for new products that I am developing and it has really helped me create a more logical structure to my thoughts and plans."
Karen White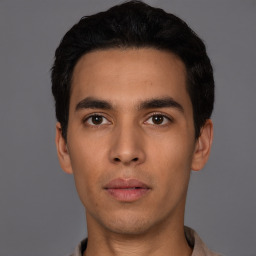 "I had to study for a lot of exams and I wanted a tool to help me prepare. That's when Mind Map Pro came to the rescue. The app was very easy to use and helped me not only study but also get an overall look at all the exam topics. I passed all my exams with flying colors, thanks to Mind Map Pro!"
James Robinson

Benifits
Mind Mapping for Individuals Benefits
Mind Map Pro offers a variety of benefits to empower individuals to enhance productivity. Listed below are the key benefits that users can expect to receive: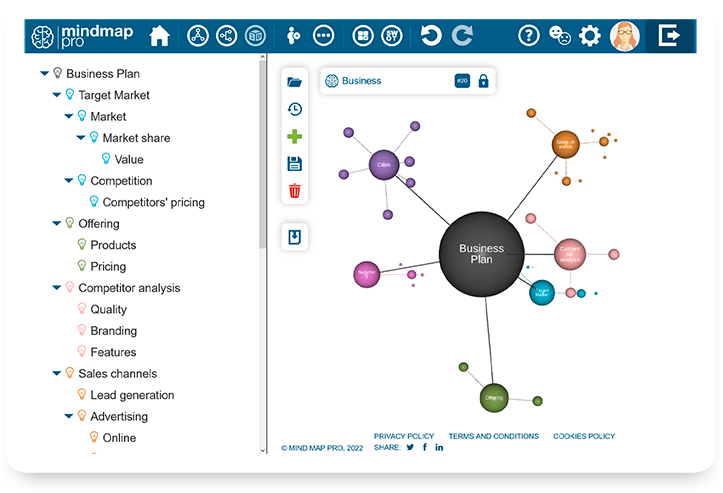 Unlock your creative thinking
Optimise your performance
Improved brainstorming sessions
Adopt a better problem solving process
Efficient project management and task scheduling
Structuring your own ideas to relieve stress
Real-time team collaboration
Better communication and team engagement
Enhanced project planning
Ability to better define project scope and requirements
Better meeting management and note taking
Mind mapping for individuals and team
Explore new business ideas without barriers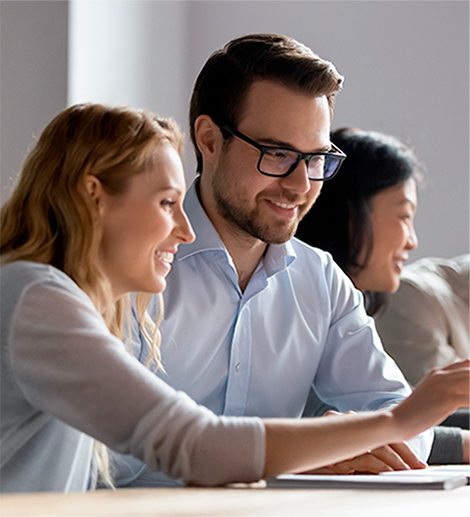 How Mind Map Pro Unlocks Creativity
---
Whether it's work, relationships, or your life mission, Mind Map Pro is the ultimate tool to bring clarity to complicated thoughts and ideas. In a fun and engaging way, you can brainstorm and capture any idea with mind map visual representation, charts, and more.
Creative Thinking & Problem Solving FAQs