Mind Mapping
Think, link, explore
Even the greatest explorers who were about to change history didn't know what they were going to find on their voyages. Who knows what you could achieve unless you explore? Try advanced mind mapping to explore your ideas.
Fill in your details to sign up for FREE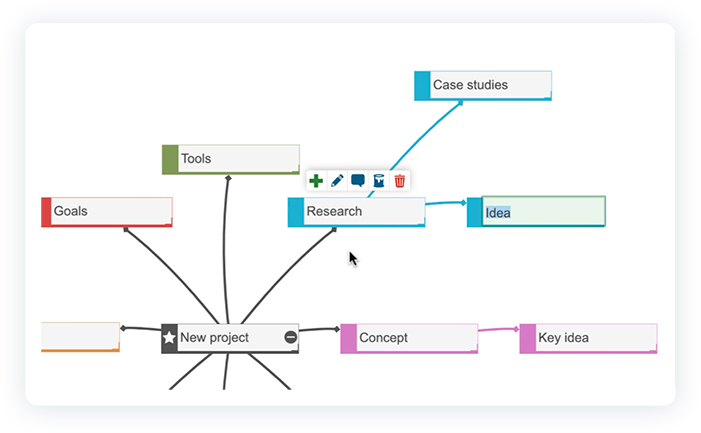 Creative thinking
When you start planning a new project using Mind Map Pro, you'll begin with a creative thinking phase. Explore your ideas freely by mind mapping in a non-linear, unstructured way to capture new and innovative ideas rapidly. Use tree view when you're ready to consider your ideas with structure, or 3D view to experience your mind map in 3D.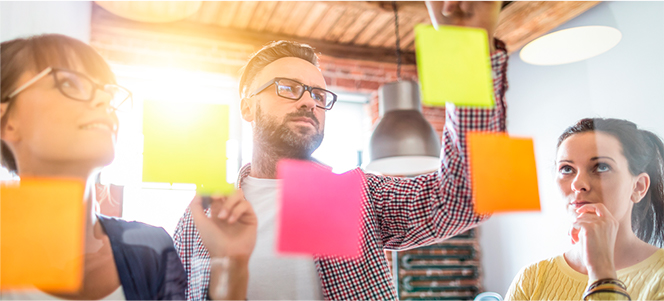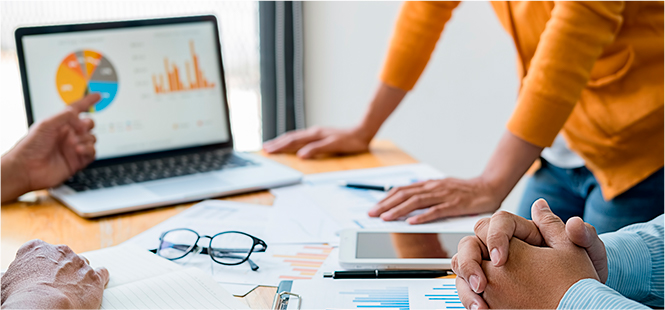 Sprint to your goals with project management
The agile task manager uses sprints so that a phase of work can be strategically directed to meet goals within a timeframe. The settings are fully configurable so that you can adapt the set up to suit your project. For example, a development team will probably include bug testing in their task types. An academic research project, on the other hand, would change the task types to suit their phases of research and review.
Business use cases . . .

Workshops
Generate innovative ideas collaboratively and creatively in a workshop setting. Enjoy the immediacy of the software; ideas added by one person are updated in real time across all devices. Engage in discussions using the live chat tool and develop ideas together with a group. Assign tasks to continue action and encourage progress after the workshop is finished.

Business plan
Map out a new business plan without the constraint of linear processes and procedures. Add depth as you flesh out ideas within your mind map. Undertake a SWOT analysis to assess the strengths, opportunities, weaknesses and threats.

Visualisation
With multi-dimensional advanced mind mapping, you can switch between 2D and 3D views. This allows you to experience perspectives and find new connections between your ideas.
Features . . .
Mind Map
Creative mind mapping using the map view
Structured mind mapping using the tree view
3D mind mapping using the 3D view
Easy to use with a simple process to get started
Change the color and shade of ideas from a color picker
Idea boxes automatically extend in size as your type
Drag corners of idea boxes to change the size manually
Keyboard shortcuts to mind map without a mouse
Drag and drop background to move image around the canvas
Zoom in and out using icons or with a mouse scroll
Move ideas and change their relationships by dragging and dropping
Create additional associative links between ideas and add contextual labels
Quick access to view recent Doodles or switch teams
Export your Doodle to an Office document or an image
Choose between a public or private mind map
Add Detail
Enter detailed view to add depth to an idea
Store files and upload images to ideas in detailed view
Set an image as a featured image for it to appear in the mind map
Idea Development
Where can mind mapping take you? It can help you generate original ideas. Where can project management take you? It can help you take your ideas further. What about mind mapping software with built in project management? Put simply, it's a direct route to innovation. Mind Map Pro uses mind mapping with project management and implementation to help you move forward with idea development, leadership, entrepreneurship, change management and business analysis.

Information Management
When to use mind mapping is something you may question if you're a mind mapping beginner. In its simplest form, mind mapping is a visual way to manage information. Instead of adding your ideas to different folders within Google Drive, you can use a free mind map for online storage of your ideas. Structuring information using mind maps is quick and easy, utilising non-linear thinking techniques whilst benefiting from an underlying hierarchical structure. Using Mind Map Pro, you can take things one step further, with built-in project management that far exceeds capabilities found in Trello. Our tool revolutionizes Kanban-style boards by combining them with mind mapping, analysis and other tools for a fully creative project management experience.

Structuring Knowledge
There is an art to structuring knowledge in a way that is easy to understand. Mind mapping makes presenting complex information easier to do and simpler to interpret. Storing knowledge in an online mind map ensures that key information is kept safely and securely, in a logical place that can be accessed by collaborators if you wish. On top of this, the visual display of a mind map improves memory and retention of key facts. Use our free mind mapping software to centralize information.
Event Management
Event planning can be a juggling act. Mind Map Pro will make planning your event easier and simpler with online mind mapping and collaborative task management. Use the online chat tool to discuss how you plan to deliver an unforgettable experience for attendees. When brainstorming your event schedule, create a mind map of topics and activities. Manage tasks with the Kanban-style task board, and store important files like your event budget in your Doodle. The task board is highly customizable. You could even transform it into an event schedule planner, with each talk represented as a task and parallel streams running throughout the day. Mind Map Pro allows you to be creative and think outside the box with event project management.