SWOT Analysis
Know the future
What makes your project strong? Which opportunities should you prioritise? Are there weaknesses that you need to be aware of, or threats that you should mitigate? SWOT analysis involves an assessment of how internal and external factors can impact on business.
Fill in your details to sign up for FREE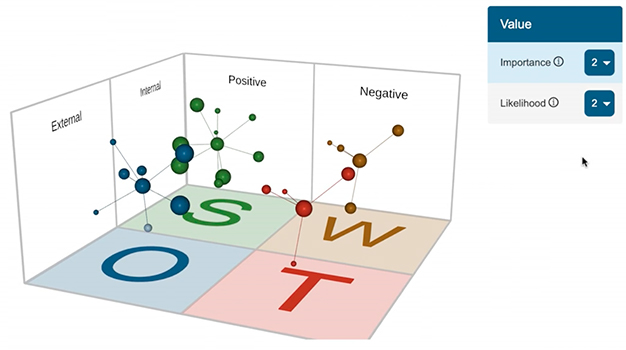 Strategic planning with SWOT analysis
Stay ahead of your competition by using Mind Map Pro's 3D SWOT analysis to identify strengths, weaknesses, opportunities and threats and categorise them visually. Build a realistic vision of the future to inform a plan of action for any project.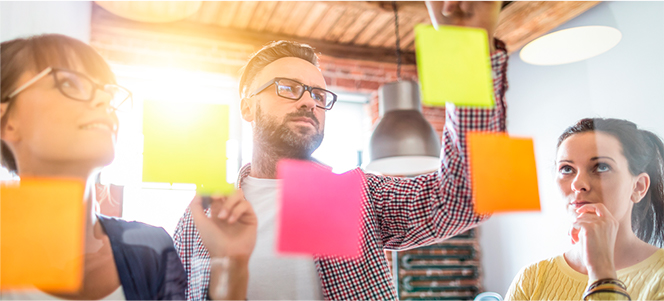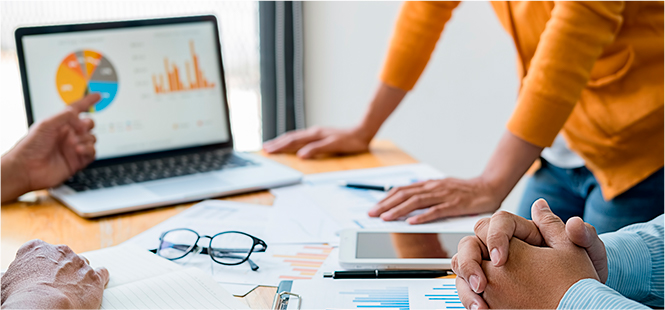 Full SWOT analysis for full strength
SWOT is a framework for analysis that can be applied to any project or set of ideas, so that you can assess risk and gain competitive advantage. Create a plan of action to turn weaknesses or threats into strengths and opportunities, setting tasks and making progress with Mind Map Pro's agile task manager.
It's an ongoing process that you can return to when external factors change or progress is made. Ideas that were initially recorded as negative factors could become positive factors as you move forward with your plan.
Business use cases . . .

Business analysis
Visual analysis for business strengths, weaknesses, opportunities and threats, which can be updated when new information becomes available.

Validation and prioritisation
Easily validate an idea and prioritise the importance and urgency of the associated tasks that need to be implemented to make that idea a reality.

Forecasting
Understand the risk and opportunity that are associated with any idea, project or business lead so that you have a realistic understanding of what the future could hold.
Features . . .
Analysis
Categorise ideas as strengths, weaknesses, opportunities or threats
(or leave as unassigned)
Drag and drop ideas across the SWOT board to update your analysis
Use advanced analysis to add reasoning
Use advanced analysis to assign numerical value to the importance and rating of the idea
View 3D chart with ideas categorised and weighted
Click and drag mouse to move the focus of the 3D chart around the screen
Hover mouse over idea to preview idea name, reasoning and weight
Choose to view stength, weakness, opportunity or threat as a single chart
Export SWOT analysis to MS Office document
Assign tasks to strengthen weaknesses, capitalise on opportunities or mitigate against threats
Business Strategy
Strategy is key to success and Mind Map Pro will take you there. It's time to think seriously about your ideas using SWOT analysis to form your strategic direction. Use critical thinking and advanced SWOT analysis to improve awareness of business strengths and weaknesses. Find out exactly where your business sits within your industry so you can capitalise on opportunities and mitigate against threats. Take action to strengthen your business and move strategically past your competition with our integrated SWOT analysis and project management tools. Tasks are assigned transparently to ensure your team perform at full capacity to reach business goals, strengthening your industry position.

Consultant Project Management
Bringing your specialized skills and expertise as a consultant project manager to assist companies make good business decisions involves leadership and strategy as well as project management knowledge. To plan and execute your consultancy projects, use Mind Map Pro for free mind mapping, project management and 3D SWOT analysis. Mind Map Pro helps you perform the tasks of strategic management using the right project management tools and techniques. An online chat tool is built in to improve both project management and communication. There's a 3D SWOT tool for combining project management and evaluation whilst facilitating change management. Mind Map Pro is a tool with seamless workflows and integrations, allowing consultants to combine creativity, productivity and business management for consultancy projects.


3D SWOT Analysis
You can also benefit from 3D visualization during SWOT analysis. Mind Map Pro's 3D SWOT charts reflect the impact of each factor you have assigned as a strength, weakness, opportunity or threat. The size of each sphere is calculated using the values you provided during advanced SWOT analysis. 3D SWOT charts can be exported to Microsoft Word so that you can present your SWOT analysis findings to stakeholders, investors or team members.

Product Manager Solution
What is the role of a product manager? It's simple. Product managers are responsible for products. This means they are the central point between UX and design teams, tech and development teams, and business and operations. Naturally, a product manager will follow project management techniques to oversee the planning and production of a product, continuing through all stages of the product lifecycle including marketing, sales, reporting and analysis. They often lead cross-functional teams, meaning an effective product manager solution will have collaborative features and online chat built in, plus integrations with other tools like Slack, just as Mind Map Pro does. Mind Map Pro encourages creativity with free mind mapping, enhances productivity with an integrated task board, connects teams and promotes collaboration, and helps product managers to analyze strengths, weaknesses, opportunities and threats with SWOT analysis. It's the perfect tool for end-to-end product management.