The Change Canvas: Empowering change for business success
The Diversily story
Marissa Ellis had a surprising realisation at the end of 2017, that as a woman in tech, she was both a role model and an ally.
Feeling the responsibility to do something to change the lack of diversity in the tech sector, Marissa founded Diversily at the beginning of 2018 to disrupt the status quo of workplace dynamics.
Research shows that diversity and inclusion bring huge benefits to any organisation, but we need more action to drive change. Marissa was keen to apply her experience in product, services and consultancy to offer a solution that could help to open up conversations, redefine what good looks like and drive action.
Inspired by the principles of lean start up and continuous improvement, Marissa created The Change Canvas. It is a free tool that provides a simple, powerful yet flexible framework to unite people around a shared change mission. It is action orientated, results focused and iterative.
Creating the Business Planning Canvas
The Change Canvas can be used in lots of different ways, for any kind of change topic. Whilst the inspiration for its creation was diversity and inclusion, it is actively being used for mentoring, business development and agile transformation.
"With the end of the year approaching, several people mentioned that they would like to use The Change Canvas for a year-end team review and planning session. It is the perfect tool as it gets everyone involved, allows conversations to be opened up and ideas to be generated in an action-orientated, results-focused way," Marissa Ellis, Founder of Diversily.
The simple, iterative framework covers three important elements of any change:
1. Reflection – Looking back to understand where we are and why change is needed
2. Vision – Looking forward to define what success looks like and setting goals
3. Progress – Coming up with ideas, taking action and celebrating results
Using The Change Canvas for business review and planning involves getting the team together and asking the following 5 questions, which map to the boards of The Change Canvas:
What have we achieved?
Why change?
What does success look like?
What could we do differently?
What will we do now?
Business impact
Using The Change Canvas to bring people together generates a whole host of benefits to teams or organisations. It can:
Boost team effectiveness and create alignment
Provide direction and focus minds on what matters
Spark ideas, encourage diversity of thought and drive action
Open up conversations and strengthen relationships
Create a lasting, visually engaging record of a discussion
Encourage celebration of success, recognition of achievements and boost motivation
Capturing content with Mind Map Pro
Capturing content that emerges from discussions using The Change Canvas is important for ensuring maximum impact.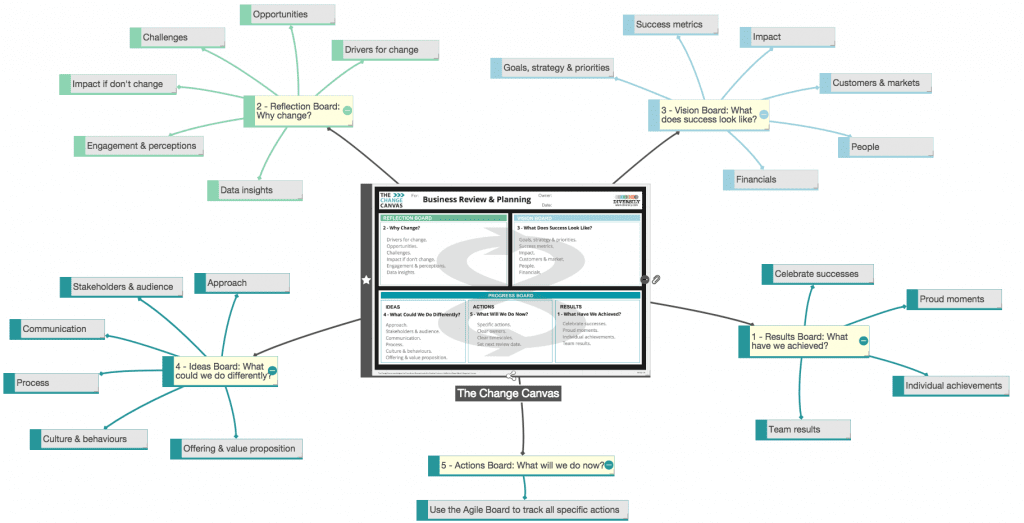 Ever sat in a meeting where nobody takes any notes? Two weeks later, everyone has forgotten what was said and there is no coherent plan for what is meant to be happening next. To avoid this, Canvas users capture their content in all sorts of different ways, from mind mapping to post it notes on a white board to digital collaboration tools such as Mind Map Pro.
"The Change Canvas offers a great mix of opening up conversations but also focusing in on specific action points. What I love about Mind Map Pro is it lets you do both of these things.

"You can use the mind map features to freely capture the key points that come up as the conversation navigates between the different boards on the canvas.

"When it comes to the action board, specific tasks can be captured and managed using Mind Map Pro's agile task manager, ensuring that action is taken and iterative progress is made. This makes Mind Doodle a great tool for users of The Change Canvas," Marissa Ellis, Founder of Diversily.

Hall of fame
The Change Canvas Hall of fame, shares important conversations from the diversity and inclusion space to raise awareness, increase impact and inspire more action.
Of the many incredible initiatives that the Change Canvas has already been involved with, here are just a few recent highlights:
20 influential women working in the UK VR industry came together to create a vision for the future using The Change Canvas.
The Change Canvas joined 8,000 people for Sibos, the premier, annual SWIFT financial services event this year, to create a visually engaging, lasting record of an incredibly inspiring session on The Future of Work.
The Bristol Equality Charter Change Canvas is being used to encourage individuals and organisations to sign the Bristol Equality Charter.
"The Bristol Equality Charter is the first city-wide charter of its kind, worldwide. I feel incredibly proud of Bristol and delighted to be a part of this amazing initiative," Marissa Ellis, Founder of Diversily.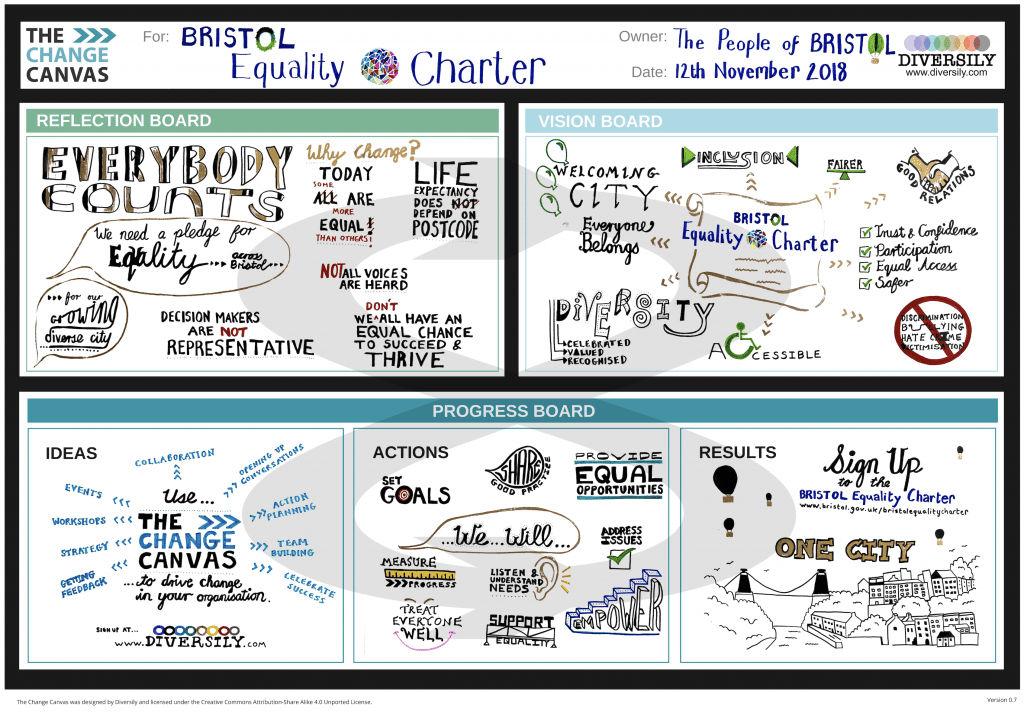 As well as making an impact on businesses and the wider business ecosystem, The Change Canvas is also making a difference to individuals.
It brings focus, direction, an action-orientated approach and an ongoing celebration of results to mentoring relationships or personal reflection and development.
"It is very exciting to watch the use of The Change Canvas grow and to see it inspiring positive change around the world. Now we need help to spread the word so we can encourage wider adoption and for it to be a driving force behind even more positive change," Marissa Ellis, Founder of Diversily.
Watch this video about The Change Canvas for Business Planning or learn more about using Mind Map Pro's agile task manager.